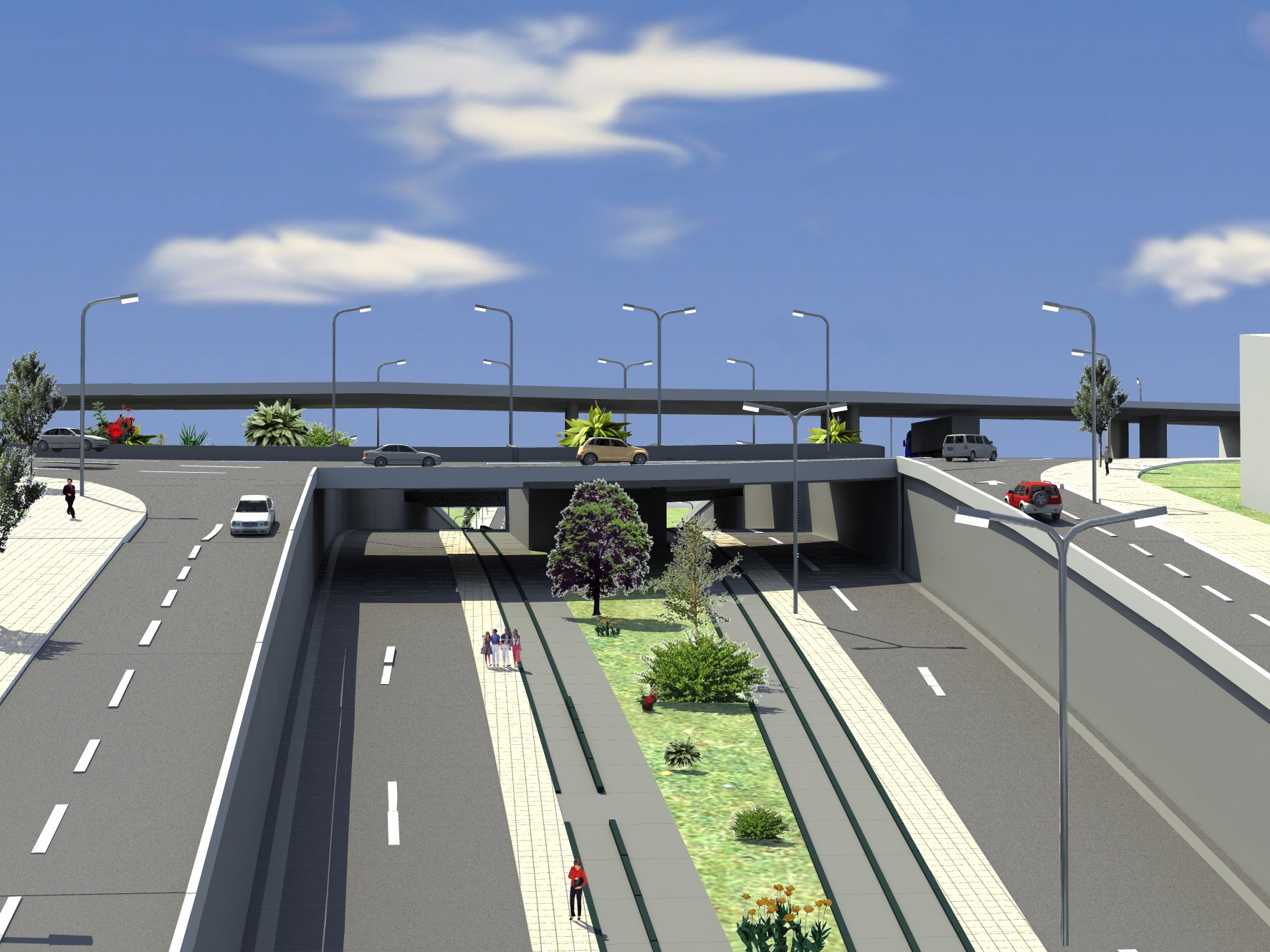 By Elias Gebreselassie, Addis Ababa

For Anybody who's visited Addis Ababa or lives in this chaotic city of about four million people, there's something both group of people will have hard time ignoring: massive transportation problem.
The city famous for its blue colored minivan taxis and yellow striped state owned firm Anbessa Buses overfilling with passengers however might have come up with a solution if people are patient enough.
Ethiopia is constructing an Engineering, Procurement, Construction (EPC) project contracted by China Railway and Engineering Corporation (CREC) at a cost of USD 475 million, 31 kms long, "first of its kind" Light Rail Transit System, which when projected to be operational by February 2015, will at least take some of the transportation burden.
For Behailu Sintayehu, the young project manager of the Addis Ababa Light Rail Transit Project (AA LRT), this ambitious project which can reportedly transport up to 20,000 people within an hour in one direction, may just come in the nick of time for Addis's large transportation woes.
With the city's population passing the four million mark, and the ever expanding nature of the city's skylines and workplace his plans for the city's transportation is sure to give it a boost.
The first part of the train road section is expected to start from the northern outskirts of the city Ayat passing through Megnegna area- 22- Urael- Meskel Square-Mexico- Lideta and finally resting at Defense forces area.
The second part of the train section starts at St.George area moving to Abune Petros-Ataklit Tera (vegetable market)-Addis Ketema- Autobis tera- sebetegna- Darmar- beofe resting at Abinet.
The two east-west lines connect at lideta moving to Meshualkia area-Gotera and finally ending at Kaliti juncture.
With the government having decided to make the route pass through the oldest, most densely and commercially, Behailu says the project was bound to face some tough obstacles.
"Around Merkato area dubbed "Africa's largest open air market" problems with delineating borders, around Mexico and Megenegena problems with removing water pipes" the project manager said adding that a previously undetected flood protection system from Meshualkia-Gotera as well as problems with illegal waste disposal by some residents also were obstacles being encountered. The latter problem is being reportedly dealt with the help of law enforcement officials in the city.
"New features, new hopes"
although Addis Ababa will technically not have it's first train service in it's 126 years, Behailu points out that this stands out in several ways.
The moribund diesel powered Addis Ababa-Djibouti Freight and Passengers railway conceived more than 100 years ago during the reign of Emperor Menelik but finished after his death in 1917 preceded this project.
But as the project manager points out, the new rail track which will be only for passengers, is powered by electricity making a carbon foot print of zero, will have a top speed of 80 kms/hr. although travelling in a bustling city's perimeters means it's going to likely be around 30kms/hr.
To add that for anyone who's travelled outside of Ethiopia and has experienced metro system, the new project will have an electronic card ticket system complete with an information board telling the location of respective destinations.
The price of the ticket according to him is still being worked out and there will be 39 stations where passengers can hop into or offload with an average headway time of six- 12 minutes.
Oh, and for anybody wondering how the train system can be built in a sprawling, under planned metropolis, the rail network will have one fully underground train station, two semi underground train stations at Megnegna and Urael areas and nine fully elevated train stations with the rest being ground stations.
Nine elevated pedestrian stations with lifts, escalators and stairs are also part of the new feature of the AA LRT.
So far about 4,800 local staff are being employed in the project, with several hundred expected to be hired on a permanent basis once it's finished to operate the rail system
" project done, how to repay loan?"
Though the Addis Light Rail Transit System is progressing well with about 80 percent completion rate, 85 percent of the USD 475 million needed to build comes through loan obtained from the Export-Import Bank of China.
However Behailu insists there's a mechanism for dealing with the return of the loan with the ticketing price, various infrastructures to be built near it and a transit oriented development schemes being among the options.
A separate project the Addis-Djibouti rail project being constructed at a cost of USD three billion, is similarly being built by a Chinese firm on a similar loan basis agreement.
"Cost Effective?"
Although many residents of Addis Ababa like Alemu Dagne 48, a father of two may be hoping for a transportation problem that will solve the daily commute he takes from the northern area of Addis called CMC to the nearby town of Sebeta, cost wise might not be the relief its residents are hoping for.
Elias Kassa, head of the SWETH railway consultancy firm in Stockholm, Sweden, sounded a note of caution about overestimating the benefits of rail technology.
"Rail technology may be a cleaner and faster transportation mode for big cities like Addis Ababa," the Ethiopian-born Kassa said, "but in order to succeed it has to be integrated with other transportation modes such as electric buses, normal buses and taxis."
He also warned that although railways help avoid traffic congestion and provide a high-quality means of transportation, the experience of other countries show that they aren't inevitably cheaper, unless there is a huge subsidy from the government.
"It's clear rail transportation provides improved comfort, which necessitates that you pay a higher fee," said Kassa. He added that the energy and fuel saved transporting freight by rail, as well as time saved with passenger trains, may compensate significantly for high ticket prices.
Alemu however says as a person who has to start his transportation at 6:00 am in the morning, and make his commute back to home starting early from 4:00 pm, the rail project can't come sooner.
"I have to take a minimum of two hours, expend 18 birr and six taxis to reach my work place, and I calculate it can only take me forty minutes if the rail starts operation" said Alemu adding that he also aims to have the comfort, speed and predictability that a rail transportation provides.
However on a note of caution, while praising the overall transformation of the city he was born into over the last decade, he stated that proper planning should be made for those having private cars to be given more car crossings as well as to residents who might have to take longer routes to reach nearby places.