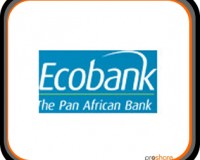 Ecobank Ghana limited was named the country's the Best Bank for the Year 2012 at the Ghana Banking Awards organised Saturday night in Accra. At a well-attended ceremony themed 'Promoting Ethics, Integrity and Compliance in the Financial Services Industry', the bank was crowned the best bank among its peers by the Corporate Initiative Ghana, the body that organises the annual Ghana Banking awards. The award is given to the bank with the highest weighted scores for customer survey, financial performance and other industry criteria.
The accolade of the 'Bank of the Year' award is the most coveted among 20 categories which were up for grabs. The Bank of the Year award is Ecobank's sixth, after it won the same award at the maiden edition in 2001. It has also won it three consecutive times from 2004 to 2006.
The Ghana Banking Awards is a vehicle to showcase and applaud best performing banks in various categories of the Ghanaian financial services market. The event is in its 12th edition.
The bank also picked up three other awards – best bank in Financial Performance, best bank in Competitive Pricing and was 1st runner-up for Corporate Banking category.
Ecobank was established in 1990 and is a member of the Pan-African Ecobank chain which operates in thirty two (32) African countries. Ecobank Ghana took-over Ghanaian lender The Trust Bank (TTB) in December 2011. The takeover- helped to make the bank the biggest in Ghana in terms of profitably and the second in assets. The bank has seventy-eight (78) branches currently nationwide.
Zenith Bank was named the best bank in Corporate Banking while fellow Nigerian bank, Guaranty Trust Bank won the best bank in Mobile Banking.
Prudential Bank also won the highest number of awards – an impressive eight awards. They were followed by Unibank- winning six awards.
Trade Finance Deal of the year was a $60m deal to finance energy production by an independent power producer.
The banks who financed the deal were CAL bank, Guarantee Trust bank, Zenith and HFC bank.
2012 was a good year for banks operating in Ghana with almost all of them declaring healthy profits with some recording as much as 200% increase in revenue.
Below is a comprehensive list of categories and the winners:
Bank of the Year
Winner: Ecobank Ghana
Best Bank in Advisory services
Winner: 1st Atlantic
Ist runner-up Unibank
1st runner-up – International Commercial Bank
Corporate Social Responsibility
Winner: Agric Development Bank (ADB)
1st runner-up: UT Bank
2nd runner-up: Prudential
Best growing bank
Winner: Access bank
1st runner-up: 1st Atlantic
2nd runner-up: Fidelity Bank
Short term loan financing:
Winner: Unibank Ghana
1st runner-up: Prudential bank
2nd runner-up: Zenith bank
Mobile banking
Winner: Guaranty Trust Bank
1st runner-up: Stanbic bank
2nd runner-up: CAL Bank
Medium term loan financing:
Winner: ADB
1st runner-up: Stanbic bank
2nd runner-up: CAL Bank
IT/Electronic Banking:
Winner: Unibank
1st runner-up: Prudential bank
2nd runner-up: UBA
Competitive pricing:
Winner: Ecobank
1st runner-up: Stanbic
2nd runner-up: ADB
Best Retail bank
Winner: Unibank
1st runner-up: Prudential bank
2nd runner-up: UBA
Long-term loan financing:
Winner: Prudential
1st runner-up: Unibank
2nd runner-up: Zenith bank
Corporate Banking
Winner: Zenith
1st runner-up: Ecobank
2nd runner-up: Prudential
Best bank in trade finance
Winner – Prudential bank
1st runner-up: Zenith bank
2nd runner-up: Fidelity bank
Best Bank: Customer care
Winner: 1st Atlantic
1st runner up – Unibank
2nd runner up – ICB
Agric financing
Winner: ADB
1st runner-up: UT Bank
2nd runner-up: SG-SSB
Consumer lending
Winner: Prudential bank
1st: Unibank
2nd: Ecobank
Financial performance
Winner: Ecobank
1st runner-up: Stanbic bank
2nd runner-up: CAL Bank
Source: Africa Venture Capital